Augment Reality:
Superimposing computer graphics onto a live view of the world. Also known as "AR".Augmented Reality (AR) is one of the fastest growing segments in technology market and it also provides some of the most exciting and game-changing possibilities in today's world.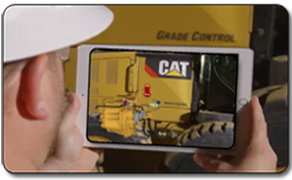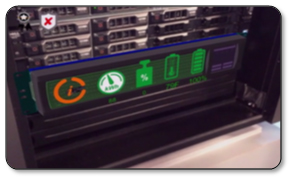 General Business Challenges faced by Industries:
Lost sales from not being able to virtually display your products
Expense of multiple on-site visits and costly prototypes
Expense of transporting large pieces of equipment
Customer indecision due to complex proposals, requirements and many more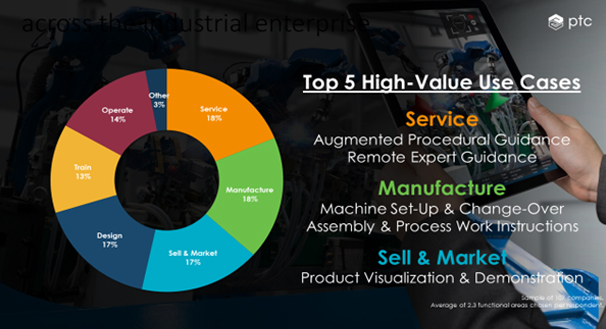 PTC Vuforia solution to overcome the challenges:
Vuforia is one of the leading Industrial Augmented Reality offering from PTC, creating profitable revenue growth in the industrial enterprise by enabling the next wave of digital transformation – improving human training, performance, and effectiveness.
Augmented Reality provides the ability for a user to experience the digital information in context of a physical product like in the field, on the shop floor, in the showroom floor, or on the cab of a machine.
It can also bring the machine or the shop floor to a user wherever they need. The top two use cases for AR are manufacturing and service, and it also have immense benefits in sales and marketing.
With AR, organizations can improve their factory efficiency with augmented process plans like inspection processes, service efficiency with step-by-step instructions, customer service with easier self-help guides, and sales with virtual product demos in showrooms.
Improve Manufacturing with Augmented Reality:
AR-powered hands-on experiences are the most effective way to increase the capabilities, practices, and effectiveness of factory technicians, and reduce the cognitive load and errors of daily routine tasks. This is mainly helpful when the headcount of highly-trained manufacturing workers are less.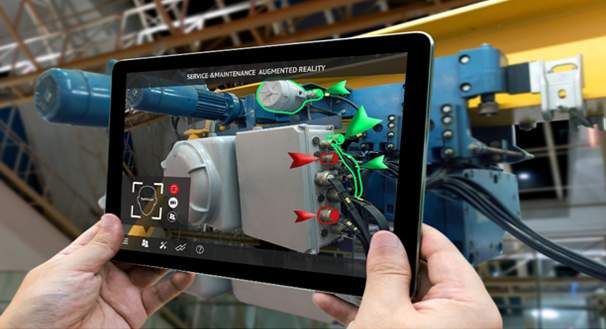 Improve Service with Augmented Reality:
Augmented Reality bridges the gap between frontline workers and digital/physical systems, enabling service technicians to better "see" relevant IoT data, CAD-based overlay instructions and guidance from expert team members.
Positive Business Outcomes with AR:
Higher win rates as customers can easily visualize the products
Reduced travel costs through sharable AR experiences
Shorter sales cycles with access to products everywhere at anytime
Key Capabilities of AR for an Enterprise:
Visualize – Enhance the user's view of the physical world with the overlay of real-world or hypothetical digital information:
IoT data
Third-party data
Business systems information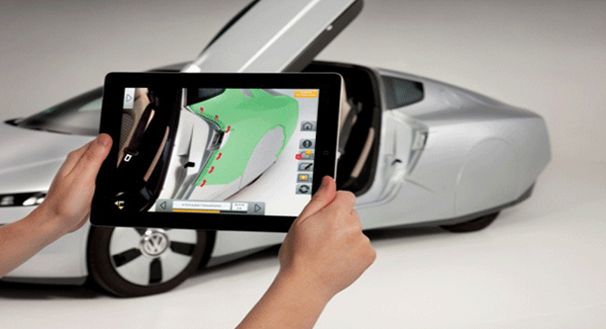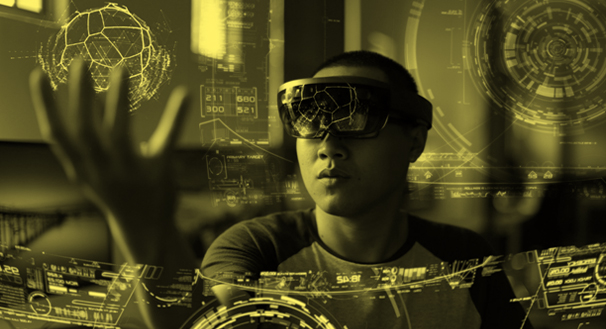 Other Impact of AR in business:
Most of the industries are currently using mobile computer vision software with Augmented Reality to support more transparent, efficient, and convenient enterprise workflows.
For example, A retailers uses computer vision-enabled mobile apps which enable their employees to use AR for getting real-time updates on inventories availability, pricing, product details, and more—creating better shopping experiences and better ROI on a variety of in-store and back-of-house processes..
Support Smarter Enterprise Operations with Augmented Reality:
To learn more about AR technology and how it can help your enterprise success? View More