Now in Creo Parametric, an expanded library of fasteners and parts now comes standard with the software. Just click Tools > Intelligent Fastener > Screw and then click a datum point, an axis, or a hole on your model where you want to add the connector.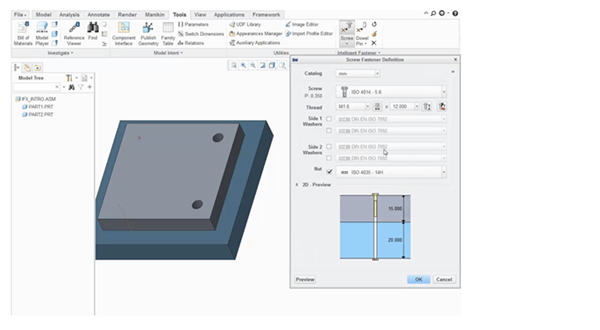 Then follow these steps:
Indicate whether you want the system to use a threaded screw or a bolt and nut. For a threaded connector, select two aligning surfaces. For bolt and nut, select opposing surfaces.
A Screw Fastener Definition dialog appears. From here,
Pick the fastener, nuts, and washers from the comprehensive library.
Select the thread size, length, hole tolerance, and counter bore location(s) as needed.
ClickPreview to see the fastener on your 3D geometry, without committing to the changes.
Click OK to commit the changes
Note that the fastener tool is more than just a library. It can also help you conveniently reuse the connectors you've defined. Say, for example, you wanted to use a bolt/washer/nut assembly at several points on your model. Just click the reassemble icon under Tools > Intelligent Fastener. Then click the point, axis, or hole where you want to place it. The system creates a new, duplicate connector.
Best of all, if you choose to assemble a connector on a hole that's part of a pattern, the system will offer to automatically copy it throughout the pattern—that's where the time savings of using the Intelligent Fastener tool really adds up.
The Intelligent Fastener tool library includes screws, washers (flat and lock), and nuts. Plus it can automatically create holes and counterbores. But if you want even more connector magic as you work, explore the Creo Intelligent Fastener Extension (IFX). With the extension you can customize fasteners and the system will automatically check the integrity of your connections if the model ever changes.
Want to see an example of Intelligent Fastener tool working within Creo Parametric? Open the Creo Intelligent Fastener tutorial on PTC's Learning Exchange. Note that you may need to create an account if you don't already have one. The good news is that it's free and after creating your new login, you'll find hundreds and hundreds of in-depth demonstrations and tutorials for PTC products.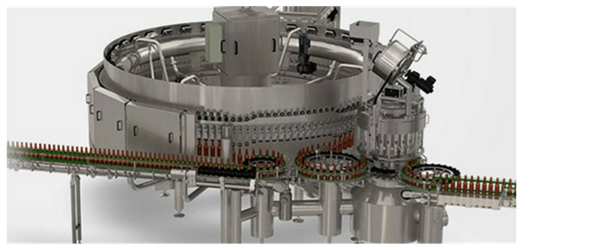 Creo Advanced Framework Extension (AFX)
The Creo AFX shortens the time it takes to create frames, structures, and assembly lines. Not only on your first time through, but also in new projects later when you need to reuse those parts and assemblies.
With Creo AFX, you can use extensive libraries of standard steel and aluminium elements like beams, brackets, screws, stairs, railings, and ladders. Anything you need to create steel machinery and structures, aluminium setups for manufacturing lines, or even buildings with standard windows.
For example? Say you want to build a large, advanced beer bottle filling machine. Starting with a proper framework for sturdiness and function is important. It's the foundation of the entire machine. Using Creo AFX saves you not only time, but also budget throughout every phase, from design, to analysis, fabrication, and assembly.